First Aid Kit Checklist for Your Hotel
AGH_Hospitality_2022
The purpose of first aid kits is to help an injured person in the minutes between the occurrence of the injury and the arrival of a physician. If appropriately maintained, first aid kits can save lives or avoid serious damage. The US broadly follows recommendations from three different bodies – OSHA, ANSI and the CDC.
Whom should you follow?
Honestly, the choice is yours. Until you have a well stocked first aid kit, there are very slim chances of anyone under your roof suffering too much, or of you being dragged to court for not being prepared for accidents.
So what do the three organisations say?
The directives of maintaining a first aid kit comes from ANSI (short for the American National Standard Institute), while OSHA (the Occupational Safety and Health Administration) enforces the standard for workplace first aid compliance.
ANSI has made two classifications for a first aid kit depending on the industry or the business. 'Class A' is for common workplace injuries, such as minor cuts, abrasions, and sprains. 'Class B' is for industries that involve high risk environments like wood work, welding, fabrication and so on.
OSHA, however, adds that a first aid program should be in accordance to hazards that can be expected to occur in a workplace. For example, if you run a restaurant, your first aid kit should reflect the essentials required to cover injuries related to the restaurant business like burns, cuts, and so on.
The CDC or the Centre for Disease Control, a federal agency, is more often looked up to when it comes to the matters of health in the US. Well, recommends you to follow the guidelines of the Red Cross in this matter. The CDC website, in a blog dated way back to 2013, recommends one follow the first aid kit checklist provided by the Red Cross.
So for your benefit and quick learning we shall provide the first aid checklist as recommended by ANSI and by default OSHA, and the CDC. But before that here are a few simple tips that could be of great help: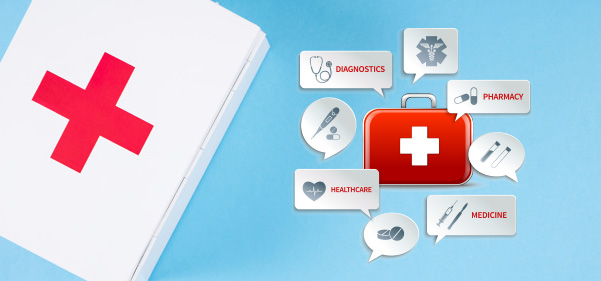 01
Design first aid kit according to your location and industry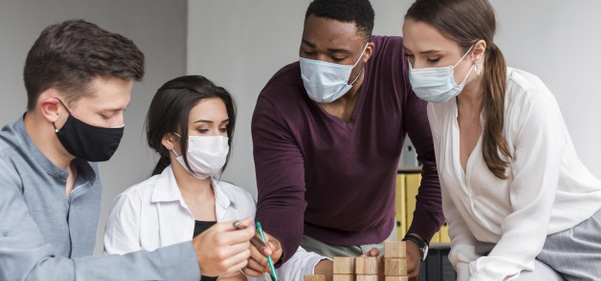 02
Put policies and procedures in writing and communicate it to your employees periodically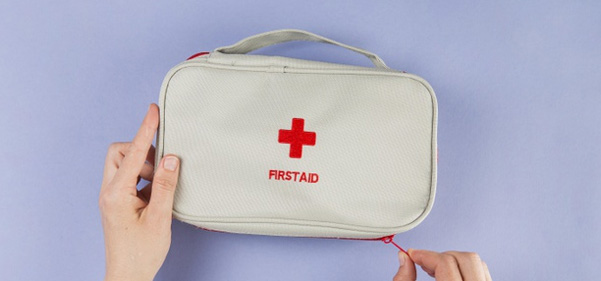 03
Train your staff in using the first aid kit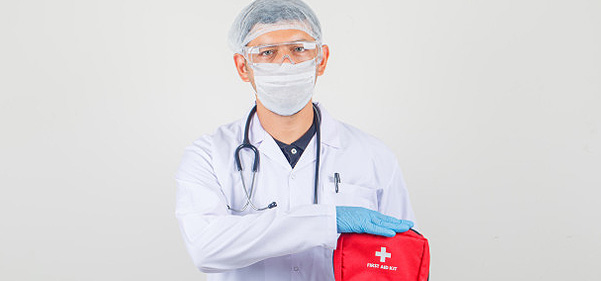 04
Make one person in charge and given them the responsibility of choosing the types and amounts of first-aid supplies and for maintaining these supplies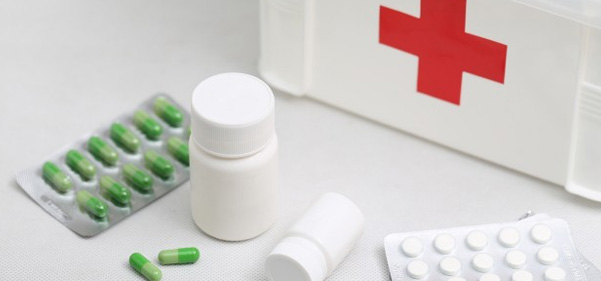 05
Store the supplies in an area that is easily accessible when the need arises
And now, here is the list of first aid supplies recommended by the OSHA/ANSI and the CDC/Red Cross. You can get a first aid kit from the Red Cross or make your own with the help of this list.
| | | |
| --- | --- | --- |
| Sr. No. | OSHA/ANSI (Class A) | CDC/Red Cross |
| 1 | Adhesive Bandages | Absorbent Compress Dressings |
| 2 | Adhesive Tape | Adhesive Bandages |
| 3 | Antibiotice Treatment Application | Adhesive Cloth Tape |
| 4 | Antiseptic Application | Antibiotic Ointment |
| 5 | Breathing Barrier | Antiseptic Wipes |
| 6 | Burn dressing, gel soaked | Aspirin |
| 7 | Burn Treatment | Emergency Blanket |
| 8 | Cold Pack | Breathing Barrier |
| 9 | Eye Covering | Cold Compress |
| 10 | Eye Wash | Nonlatex gloves |
| 11 | First Aid Guide | Gauze roll |
| 12 | Hand Sanitizer | Roller Bandage |
| 13 | Pair Exam Gloves | Sterile Gauze Pads |
| 14 | Roller Bandage | Oral Thermometer |
| 15 | Scissors | Triangular Badges |
| 16 | Sterile Pad | Tweezers |
| 17 | Trauma Pad | Emergency First Aid Guide |
| 18 | Triangular Badge | |