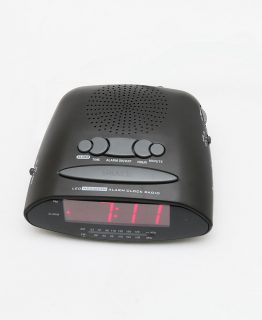 ALARAM CLOCK RADIO, Model 310
With mp3 connector, Oval Shape, "BLACK" 0.9" RED LED display, Battery back up, Sleep to music, Wake to buzzer, Snooze control, [120v-60Hz,5W] Upgrade speaker & led display, Day alarm not to disturb next guest,
*Battery not include.
Model: 310
Make waking up less painful for your guests with an attractive, easy-to-use Alarm Clock Radio. Large LED display, battery backup, snooze control, and pleasant buzzer with advanced speakers are some of the features that make AGH Supply alarm clock radios, a great beside accessory. Our models also come with an MP3 connector along with AM/FM Radio for the guests who love to sleep and wake up to music. For the more affluent ones, purchase a more sophisticated, smarter bedside companion - a Power Pod.